Railroad track inspections
We care about the integrity of your rail facility.
Regular track inspections are the most effective method in preventing track caused derailments. This is not just the duty of every railroad in keeping its operators safe, it is heavily enforced by federal regulations through the FRA. Rail Solutions of Oregon provides track inspections that focus on accident prevention. Frequency of these inspections For our customers this means that they will get regular inspection reports that are not biased by trying to fill a work order or construction crew jobs. What they will get is a complete confidence that their operators are safe, and regular reporting to stay current with FRA standards.
Certified, trained, and experienced inspectors.
Inspections should be conducted by an inspector with national certifications and rail experience, not by a construction crew. With over 38 years of railroad and track inspections we not only know what to look for, we can consult you on all aspects of industrial rail operations including track inspection, set up, rail car maneuvering, industry and yard switching, derailment prevention, derailment repair, hazardous material movement, as well as all federal rules and regulations regarding movements and train placement.
Providing you the tools to stay safe.
Inspection reporting keeps everyone up to date.
All inspection services come with detailed reports to keep you informed of not only current track conditions, but also long-term maintenance recommendations. Our experience and network in the rail industry will allow you to make educated decisions on track repairs without depleting your maintenance budget. Our reports also outline concern spots that will keep you knowledgeable about what's happening on your track.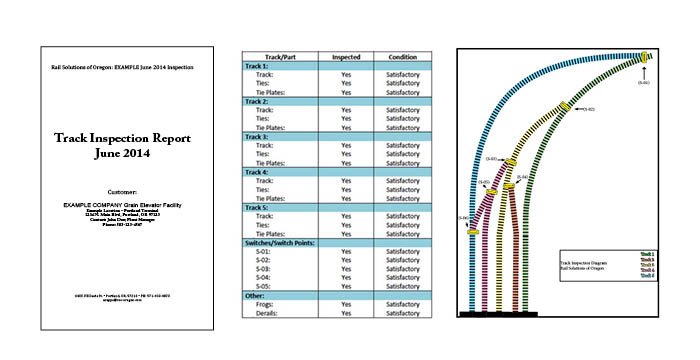 Have a professional consultant review your track before it's too late.
Call us today to setup a consultation and discuss ways you can stop derailments and improve the safety of your facility
503.720.0472